(This job application was closed on 18 January 2017)
| | |
| --- | --- |
| | 1 |
| | 18 January 2017 |
| | $340 |
| | Yes |
| | Cambodian Only |
Job Description
The Mines Advisory Group (MAG) is a humanitarian organisation clearing the remnants of conflict for the benefit of communities worldwide. MAG is co-laureate of the 1997 Nobel Peace Prize. MAG has been working in the field of Humanitarian Mine Action in Cambodia since 1992.

MAG is now seeking applications from suitably qualified and experienced Cambodian Nationals to fill the following positions:
Job Responsibilities & Duties
Assist in conducting all procurement activities and provide equipment repair support in a timely and efficient manner.
Assist in providing support to Base Supervisor on procurement distribution.
Assist in obtaining quotations from various suppliers for required goods and services in line with the MAG policies and assist in preparing purchasing paperwork and service contracts as requested.
Assist in stock management
Organize hotel booking, transportation and manage the movement of staff
Coordinate with Finance Officer on payment related issues
Other duties as requested by the Base Supervisor.
Job Requirements
Educated to Bachelor Degree or an equivalent relevant qualification
A minimum of one year experience of administration and logistics
Sense of responsibility and initiative
Proficiency in oral and written Khmer and English
Good record keeping and filing skills
Computer skill, MS Word and Excel as a minimum
Commitment to the guiding principles of MAG
Excellent interpersonal skills
How to Apply?
Interested applicants who meet the requirements should submit a Cover Letter and CV with three referees (certificates should not be included with the application and please subject the email with the position you are applying for, Ex: Ms. Xxx Xxxxx is Applying for Administration Assistant) to our address or via email the detail above.
Women and disability people are particularly encouraged to apply.
** All applications will be retained in MAG and only short-listed applicants will be contacted.
---
Help Khmer Online Jobs
When you apply for this job, if possible please mention that "You see this job announcement in www.khmeronlinejobs.com".
Thanks, From Khmer Online Jobs Team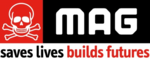 The Mines Advisory Group (MAG) is a British based Non-Governmental Organization engaged in the eradication of landmines and other unexploded ordnance. MAG's mission is to build the futures of people affected by the remnants of conflict through responsive, quality-driven and progressive action. We remove the physical threat of injury and death and alleviate economic devastation. We provide clearance and education enabling an escape from the poverty and suffering caused by conflict. MAG has been working in the field of Humanitarian Mine Action in Cambodia since 1992.
Mines Advisory Group
Jobs.Cambodia@maginternational.org
023 215 115 (Head Office)
053 952 546 (Battambang)
017 870 472 (Ratanakiri)
MAG Head Office: #16D, St. 360, Sangkat Boeng Keng Kang3, Khan Chamkar Morn, Phnom Penh
MAG Battambang: #99, Group 10, Romchek 4 village, Rattanak commune, Battambang district, Battambang Province
MAG Ratanakiri: #136, St. 78, 7 Makara Village, Sangkat Labansiek, Krong Banlung, Ratanakiri
http://www.maginternational.org

Free Job Newsletter
Get hot jobs update directly in your inbox, join our newsletter subscription.
Similar jobs