Teacher for Metta Mission and Community Services
(This job application was closed on 15th January 2022)
| | |
| --- | --- |
| | 1 Position |
| | 15th January 2022 |
| | |
| | 1-2 Years |
| | Bachelor |
Job Description
Metta Mission and Community Services is a Christian organization focusing on helping the poor in the community specially the street children. We are looking for a teacher who can join our hostel team to serve the kids through teaching and mentoring. 
Job Responsibilities & Duties
Teach all subjects from grade 1 to grade 7
Provide psychological support to the children and teenagers whenever they have emotional issues.
Give guidance to the children and teenagers especially on behaviors problems
Encourage and create a good learning environment at the centre
Usually work from 8:30am to 5:30 pm and shift duties at Saturdays may be required; 5-day work week.
Job Requirements
Applicants should possess a recognized degree 
1-2 years of relevant working experience will be an advantage
Have passion in teaching children, love children and willing to help others to grow
Well-organized, attention to details, hardworking, good team player, efficient, responsible and with self-learning ability
How to Apply?
Please send resume (include expected salary) and application letter to the office of Metta Mission and Community Services (Address : No. 14B, street St. 1970 corner 1007, Phnom Penh Thmey, Sen Sok, Phnom Penh) or by email : general.metta@gmail.com.
Application Deadline : 15 January 2022
---
Help Khmer Online Jobs
When you apply for this job, if possible please mention that "You see this job announcement in www.khmeronlinejobs.com".
Thanks, From Khmer Online Jobs Team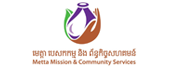 Metta Mission and Community Services is an organization committed to live out the Christian values to transform the lives of people through holistic ministry concerning the physical, mental-social and spiritual needs of people. We serve children, family and the community in the village. Metta has hostel service in Phnom Penh.
Free Job Newsletter
Get hot jobs update directly in your inbox, join our newsletter subscription.
Similar jobs